Monetize your company's legal claims.
Litigation finance can help you fight strong cases and stay the course, while mitigating the financial impact to your business.
Get In Touch
Download Guide

Lift the financial burden of litigation
Access Top Resources
Leverage greater financial flexibility to engage with high-quality legal resources—attorneys, experts, and support services.
Business Squeeze out
$500,000
With primary income streams and dividends in dispute, the minority owner of this business used funding to retain top-tier legal representation.
Single Case

Theft Of Trade Secrets
$2,250,000
Operating a thinly capitalized business, the plaintiff used funding to unlock the value of a pre-settled legal claim, the company's largest balance sheet asset.
Single Case

Unlock Liquidity
Operating a business while fighting a lawsuit can be challenging — litigation finance can help cover your legal expenses and even working capital.
Improve Outcomes
Litigation finance helps democratize access to justice, leveling the playing field against economically advantaged defendants.
Trademark Infringement
$1,445,000
This plaintiff wanted to use funding to lever its own resources in order to bolster a trademark enforcement campaign.
Single Case

LexShares has helped make substantial recoveries possible for clients across various industries, including technology, real estate, and energy, among others.
How our process works
Reach out to our team to start discussing whether funding is right for your legal claim.
Initial Review
Our team works efficiently to provide feedback on your legal claim. If we believe the case is suited for funding, we will present a term sheet.
1 - 2 Weeks
Sample Legal Claim
Case Type
Theft of Trade Secrets

Plaintiff Bluth Company claims a competitor and an ex-employee conspired to steal proprietary data and develop a copycat real estate valuation algorithm.
Damages
$15,000,000

Defendant
Sitwell Enterprises

Executives in charge of day-to-day operations and growth strategy for a successful real estate firm, which invests in the same regions as Bluth Company.
Claims Assessment
Once material terms are solidified and deal documentation is executed, the claim is assessed.
3 - 4 Weeks
Sample Diligence List
Engagement Agreement
Documents outlining the plaintiff's engagement structure with counsel.
Damages Analysis
Information supporting how the expected damages were calculated by the legal team.
Projected Litigation Budget
Budget projections for various upcoming legal fees, court costs, expert reports, etc.
Funding
After the claims are assessed, a notice of approval may be provided, followed by swift and secure delivery of funding.
1 Week
Non-Recourse Funding
There is no obligation to repay LexShares' investment if the case is lost.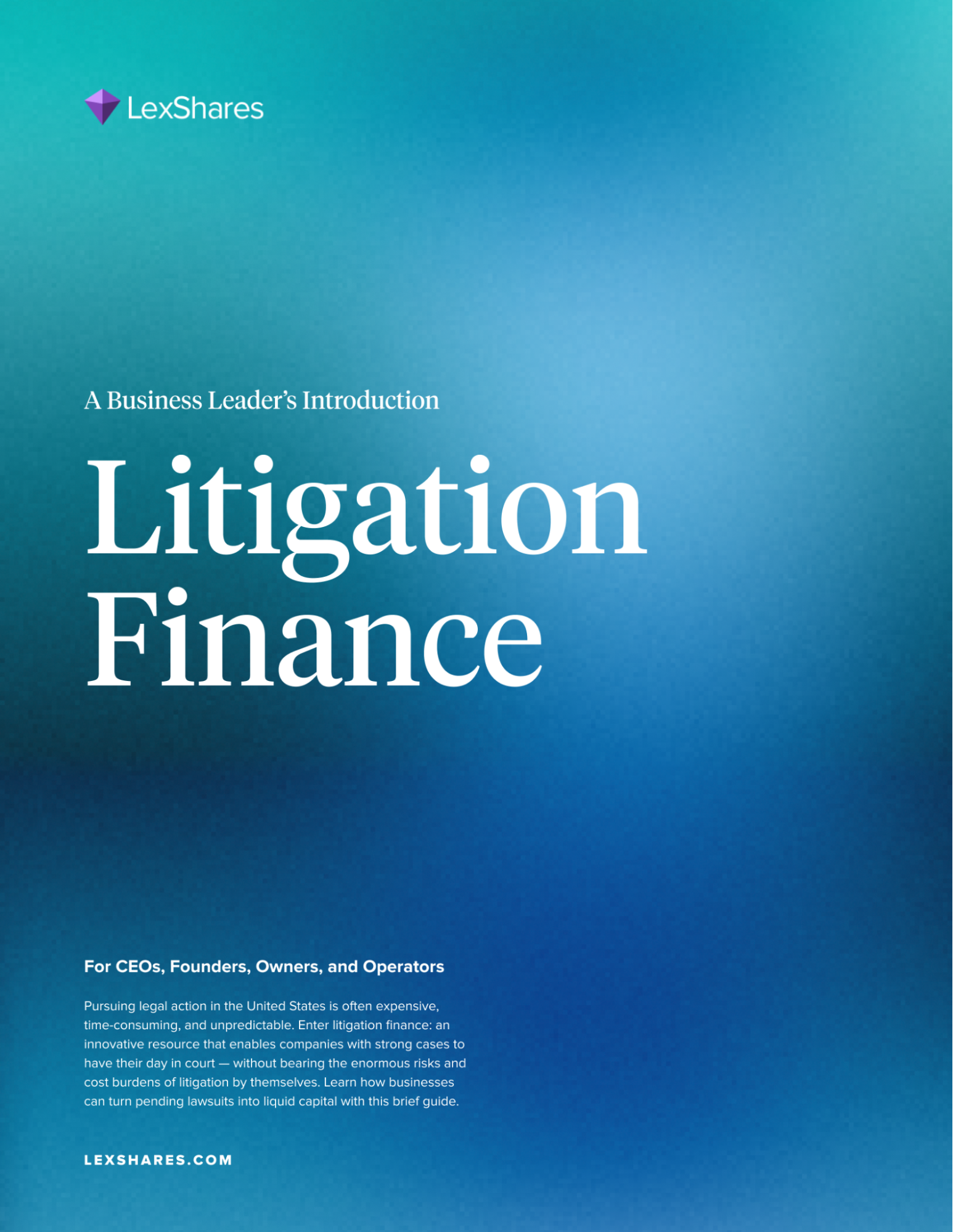 Read our detailed introduction to litigation finance.
LexShares' guide covers key topics and frameworks essential to understanding how funding works.
Download Guide
Discuss funding with LexShares.
If you have a case that may benefit from financing, or simply wish to learn more about how LexShares works, reach out to our team.